Conveniently collaborate with your team to provide edits or writing suggestions to the person in charge of the article.
Why collaborate in Semji?

You can now collaborate in Semji Editor by commenting on drafted content. All users in an organization can comment on the same draft.
Note: This feature does not allow simultaneous writing on the same content. If you try to write at the same time as another user, a message will appear informing you that the content is already being optimized. However, several users can comment on the same content, but we do not recommend doing it simultaneously.
How to create and access comments?
To create a comment, you need to:


Select which part you want to comment on;
Click on "Comment";


A sidebar opens and displays all the comments in this draft.



Once a comment is posted, you can delete it or edit it to make a change.


You can also tag users in comments. The user will receive an email notification when a comment has been added to the draft.
Note: The user assigned to the draft will automatically receive notifications about their draft.
Remember to check if your notifications are enabled in Semji's settings.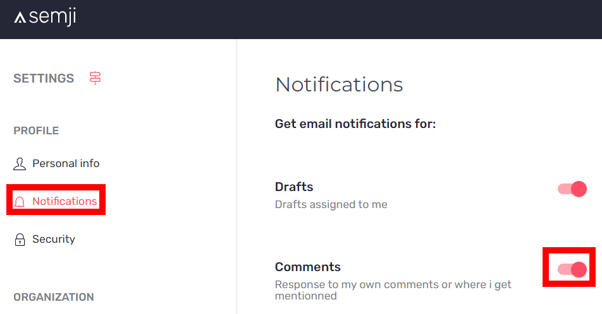 Once done with a comment, you can "Mark as resolved" to close it. The comment will be grayed-out in the editor, which means that it has been resolved.



How to access the comments list:

To find all the comments in a draft, simply click on the tab at the top right of the Content Score to open the comments window.


What are the different types of comments?

In the editor, review the text areas that have been commented on.
Yellow comments represent open conversations and grayed-out comments are resolved ones.



Use the filters to quickly find the different comments:
All: to find all comments
Active: to find active conversations only
Resolved: to find closed comments


Note: You can add as many comments as you want in a draft.

You can now collaborate and comment in the same draft!