To produce well-optimized content that Google likes
Content Score : what is it ?
Our goal with Semji Platform is to make SEO content optimization quick and easy. And for good reason, ignoring some essential SEO rules when you publish content can badly affect your visibility.

Semji Platform makes these SEO rules a game rather than a constraint. The Content Score, is one of the elements of the platform that helps to make SEO more fun.

The Content Score is a score out of 100 given to your content. The more you integrate Semji's recommendations, the higher your Content Score. A simple way to measure, in real time, the SEO quality of your content.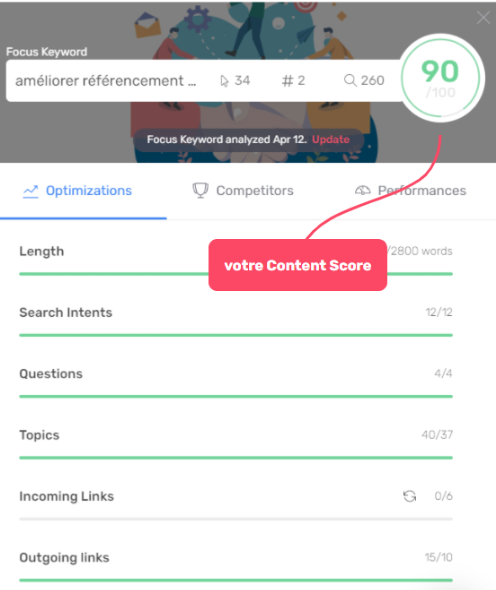 How is it calculated ?
To increase your Content Score, you must take various recommendations into account:
The Semji algorithm associates a number of points to each type of recommendation, visible by hovering over it. In this example, by developing my content to 2800 words, I will get 19 additional points on my Content Score currently at 16 / 100.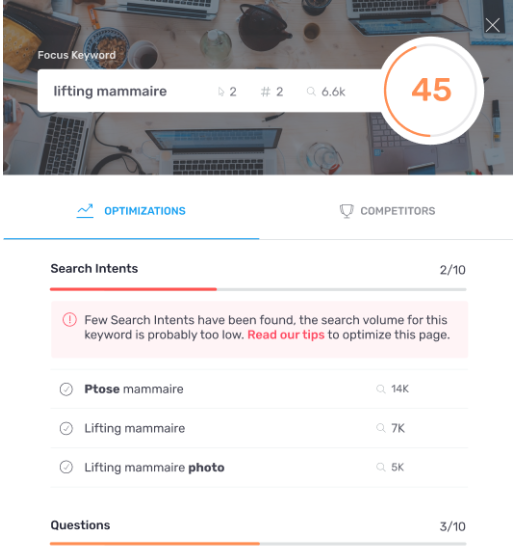 What is a good Content Score ?
4 levels : a Content Score that changes color
As recommendations are used, the Content Score increases and changes color. To illustrate this progression, we have set up 4 thresholds that correspond to 4 different colors:
< 25 : your content score is red

Your content does not meet Google's expectations to rank for the target keyword. Start or continue your optimization.
Between 25 and 50 : your content score is orange

You are on the right track but still need some adjustments to reach your goal.
Between 50 and 75 : your content score is yellow

A few more points before getting the green light to publish.
Between 75 and 100 : your content score is green

Congratulations, you have produced a great content, you can now publish it on your site!
Our recommendations on the score to achieve
As you have probably already understood, we recommend that you aim for a green Content Score, i.e. above 75 to publish your content. By following this rule, you put all the chances on your side to reach your SEO objectives with this page.
How to get a good Content Score?
Follow Semji's recommendations as much as possible. This is how your Content Score will increase. Don't forget the main objective of your content, which is to be interesting to Internet users and to be read. Insert our different recommendations in a text that teaches things and is enjoyable to read.
If for some reason you do not wish to follow certain recommendations, you can deactivating them. This action will not have a negative impact on your Content Score: the number of points allocated to the recommendation will be distributed to the others. In other words, by deactivating recommendations you can still reach a Content Score of 100. However, we advise you not to overdo the deactivation in order to get a chance to reach your SEO objective: rich content that will please Google!
Refresh your Content Score to stay up to date
If it's been several months since you published your content and worked with Semji, we recommend that you review your content. Indeed, Google SERPs (Search engine results page) are not set in stone and many things can change: a new competitor has arrived in the top 10, an existing competitor has improved its content, the search intentions on your focus keyword have evolved...

For your most competitive Focus Keyword or the ones with the highest business stakes, we advise you to update, after a few months, Semji's analysis. To do so, click on "update" just below your Content Score. Semji's robots will then update all the information according to the changes observed.

Please note: this action costs 1 credit analysis, as you can see in the information box that appears when you hover over it.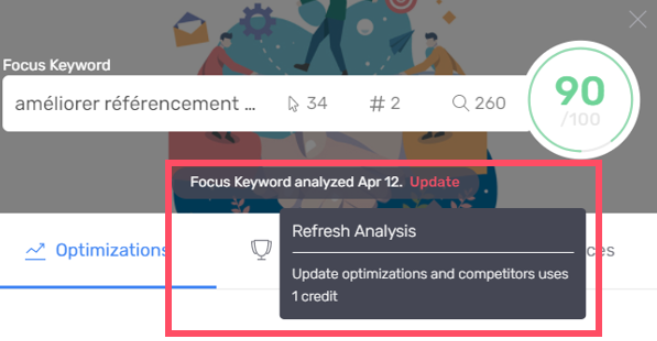 Your Content Score will therefore be updated. If it's no longer green, rework your content according to our new recommendations and put all the chances on your side to stay ahead in the SERP!