To make the right strategic choice and boost the performance of your New Contents!
You will have understood after only a few minutes spent on the Semji platform: the choice of your Focus Keyword is crucial for the success of your content strategy!
Focus Keyword : what is it ?
The Focus Keyword is the priority keyword on which you want to rank your content in Google. It is the Focus Keyword that drives the Semji's recommendations in the sidebar. When opening the content editor, the Focus Keyword appears in the top right bar.

Focus Keyword : how does it work?
When you select a Focus Keyword, Semji runs an analysis. This analysis allows to :
Retrieve keyword-related data (traffic, position and search volume displayed directly in the input bar)
Calculate the Content Score (the score out of 100 of your content)
Analyze the SERP (Search Engine Results Page) and competing content
Create writing recommendations for your content: length, headings, questions, topics, incoming links...
An analysis spends 1 credit. As your number of credits is limited by the subscription formula you have chosen, it is important to control your consumption. Avoid spending too many credits by groping to find the right Focus Keyword. To do so, learn to choose the right one for each of your contents.
Focus Keyword : how to choose it for a New Content ?
If you want to create a content from scratch (New Content), the choice of the Focus Keyword is always the first step.
Some simple and common sense rules
Your focus keyword should:
be representative of your business or a topic you are an expert on and want to talk about
have an interesting search volume in relation to your market, your sector and your target, and therefore has the potential to bring you traffic
not be confusing (beware of acronyms that may be used by several industries or in other languages)
be a keyword on which you want to rank for to generate traffic.
be a keyword for which there is no other page on your site that ranks well or would be more relevant.
In short, an explicit keyword with a high search volume on which you have enough information to produce a rich content, with a high added value for your target. Your challenge is to find several keywords on which to apply these criteria to make your final selection.

Semji helps you in your selection by providing you not only with ideas of keywords associated to your theme, but also their search volume!
Some additional tips for choosing Focus Keyword
Think about the issue of your content to know if the chosen Focus Keyword should be informational or transactional.
Transactional keywords: they reveal an intention to buy or to take action by the Internet user. Examples: "linen skirt", "buy linen clothes".
Informational keywords: they reveal an intention of documentation, of deepening a subject, of answering a question... Examples: "cotton or linen clothing?", "linen production in France".
The results displayed in Google vary depending on the search intent identified by Google. So, if you intend to write a blog article for example, choose an informational keyword. Your blog post has a better chance of being positioned there. If you want to write a product category page, choose a transactional keyword instead. It is unlikely that Google will rank blog content in the top 10 on this type of keyword.

Within a semantic cocoon, we generally mix transactional keywords, targeted by the strategic pillar pages, with informational keywords or even questions, targeted by the daughter pages or secondary pages of the cocoon.

Discover how to build a semantic cocoon thanks to our dedicated white paper, complete and concrete on the subject.
Select the Focus Keyword when creating a Draft for a New Content
To create a new content, you must create a new draft.

Wherever you are in Semji, click on the "+" button on the top right and choose to create a New Content by checking the corresponding box. Go to the next step by clicking on Next at the bottom right.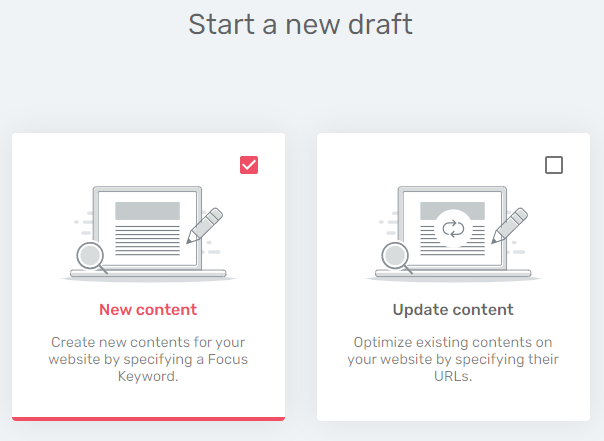 You can also go to the "Planning" tab and click on the button at the top right, to follow the same steps.

When you start creating a new draft, the platform asks you to enter a first keyword, which can be very generic, representative of your activity:

From this keyword, Semji suggests other relevant keywords that could be Focus Keywords for your new content:
Keywords with high search volumes, ranked in descending order
Frequently asked questions from Internet users, corresponding to search intentions, again ranked by decreasing search volume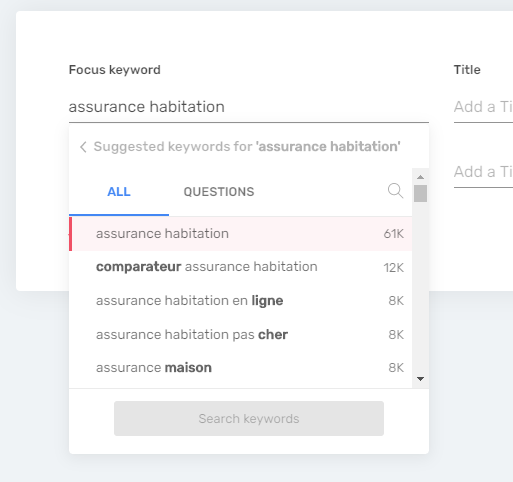 Thus, the Questions tab of your keyword research enables you to quickly choose informational content angles covered within your cocoon.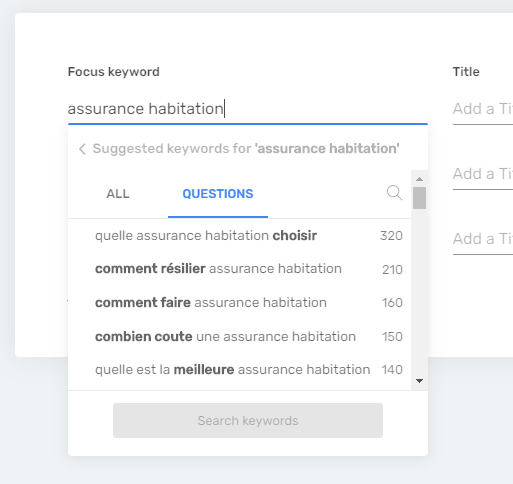 All you have to do now is to make your choice in the list of suggested Focus Keywords!

Note: all the keyword searches you make via this interface are saved: by clicking on the next Focus Keyword (to create a second content), you will find the list of your previous searches to quickly display the results.

Semji immediately displays the list of keywords from your previous search, in case you want to create a semantic cocoon around the same theme. The Focus Keywords you have already selected from this list for previous drafts have been excluded. This way, you are sure not to reuse the same Focus Keyword twice, from your research.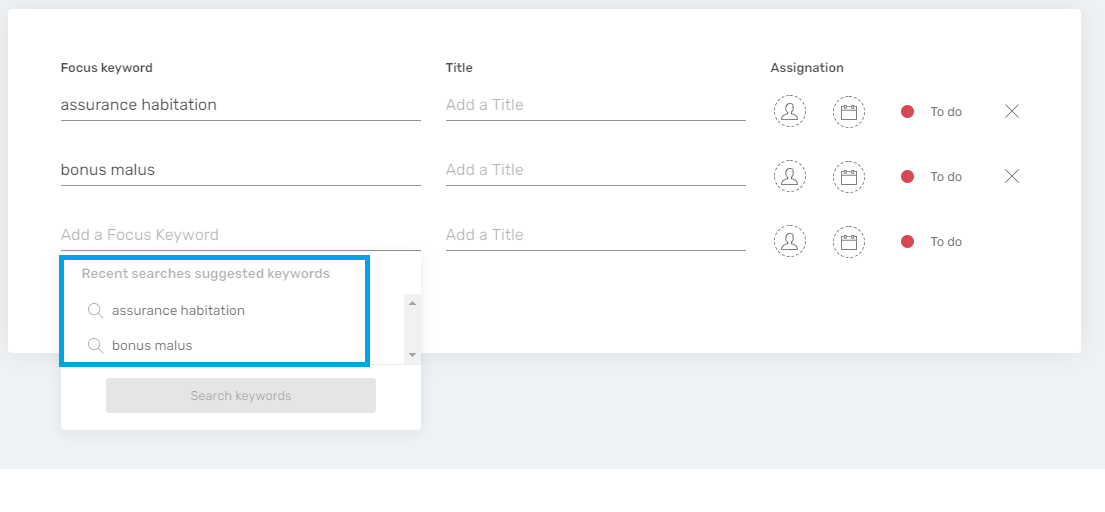 If you want to learn more about choosing a Focus Keywords, check out our article about the Focus Keyword for Updated Content.