To view the performance of your content in Semji
Why track your content's performance ?


Semji not only helps you create and optimize your content, but also allows you to track your results and performance at a glance. The platform collects data from different tools such as Google Analytics and Search Console, to display your content's performance.
Therefore, connecting these analytics tools to Semji is essential if you want to monitor your KPI's (Key Primary Indicators) in the platform.
If you use AT Internet instead of Google Analytics, don't worry! Semji also supports this web analytics solution. Semji also supports AT Internet and Matomo. For more information, please contact your CSM.
See our dedicated article to learn How to connect your AT Internet account and How to connect your Matomo account.
How to connect your Universal Analytics or Google Analytics 4 account?
Step 1
Go to Semji and click on the arrow next to your Semji organization name to access your workspace details.
Step 2
Click on the small gear icon next to the name of your workspace.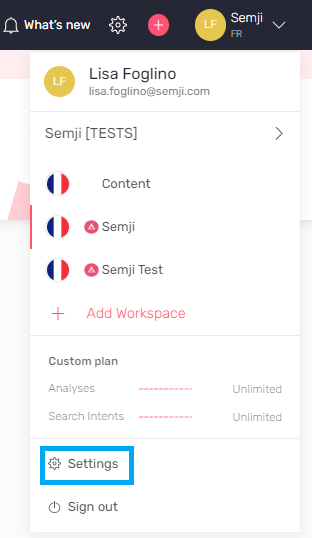 Step 3
In the Workspace Settings tabs, click on "Integrations"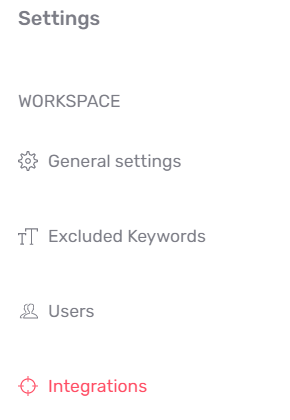 Step 4
From this tab you can connect your web analytics tools. Click on the Google Analytics "Connect" button.

Step 5
Click on the confirm button and follow the step-by-step guide.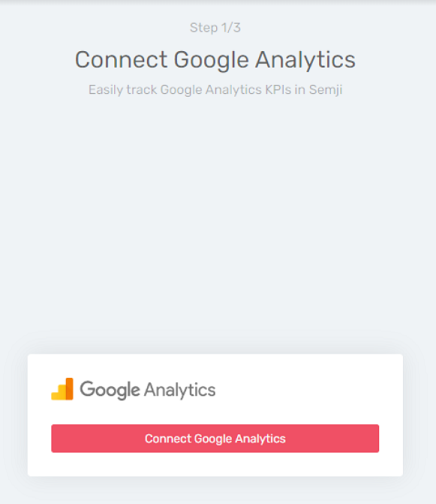 Step 6
If you have more than one Google Account, a screen will ask you to select the one that manages the Google Analytics property you want to connect.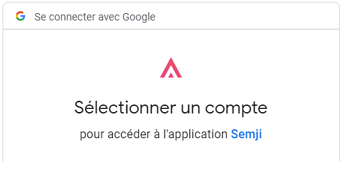 Then click on "Authorize" so that the Semji platform can retrieve the data.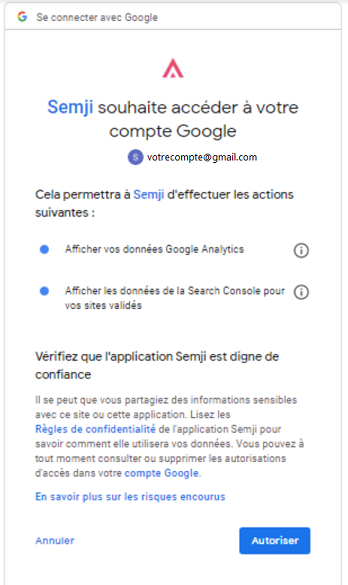 Tip: At this stage, you encounter a "Something went wrong" error message? This can happen if you are using an ad blocker plugin in your browser. Disable it temporarily and try again to allow Semji to connect to your Google Analytics account. If the error persists, please contact our teams directly on the online chat!
Step 7
Use the search bar to find the Google Analytics account you want to connect to Semji. Click on "next" at the bottom left of the page to go to the next step.

Step 8
Use the search bar to find the Google Analytics view you want to connect to Semji. Click on "next" at the bottom left of the page to go to the next step.

Tip: make sure you choose a large view, preferably unfiltered, which will include the data you want to see in Semji (sessions, conversions, sales...) for each url you want to work on. The default configuration of Semji allows you to select organic traffic (from search engines) without the need to build a dedicated view.

Your Google Analytics account is now connected to Semji! In the Semji interface dedicated to integrations, you can now see when you connected to Google Analytics (Connected) and when the last data synchronization was (Last Synced).

You'll notice a new button to the left of the "Disconnect" button: "Manage goals". This button allows you to set up the conversion goals you have defined in your Google Analytics account.

Find out how to track these custom conversion goals in Semji!