Understanding Semji's goals
[REMINDER] What is the Content Score ?
The Content Score is a score out of 100 given to your content. The more you include Semji's recommendations (Length, Search Intents, Questions, Related Terms, Incoming Links...), the higher your Content Score. It allows you to measure, in real time, the SEO quality of your content.
Your Content Score increases in real time as you write. When you pass one of the thresholds defined at 25, 50 and 75, the color of your Content Score changes. The threshold of 75 turns your Content Score into green. This means that your content is of sufficient quality to be published. Of course, if you have the opportunity to apply a few more recommendations to further increase your score, do so! Your content will have an even better chance of outranking its competitors in the results pages and increasing its SEO gains.
Why aim for 75 ?
The 75 threshold shows the proportion of Semji's recommendations applied in your content. For example, the 75 threshold tells you that you have inserted enough Search Intents in your title levels (H2, H3...), that your paragraphs deal with various Related Terms, that your content is long enough...
Recommendations are based on the analysis performed by Semji's algorithm, which analyzed the Google SERP (results page). Thanks to this analysis, Semji has extracted the main topic and user intentions. The platform then lists the information or questions that need to be addressed in order to obtain a comprehensive and qualitative content that meets the needs of Internet users.
If you publish content with a Content Score below 75, you are likely to only partially meet your audience's intentions. It is possible that a competing content will answer them better, in more depth. In this case, Google will prefer to position this content at the top of the page, and not yours. In other words, publishing a content lower than 75, means lowering your results and not seeing the fruit of your efforts.

On the contrary, publishing a content with a Content Score higher than 75 guarantees you the best chances to position yourself ahead of your competitors and generate traffic, conversions, sales... Your content respects the majority of the criteria that are important for Google. It will likely be considered more relevant and comprehensive than others. In other words, you've done what it takes to get to the top!

In which cases should you publish below 75?
In some cases, it may be difficult to achieve a Content Score of 75.
1.You are writing several contents on a niche theme
If you are writing multiple pieces of content on the same topic, for example as part of a semantic cocoon strategy, you may have chosen relatively similar Focus Keywords.
Semji is likely to provide you with some similar recommendations from one draft to another. You can therefore consciously decide not to apply them all. This avoids redundancy in your content and allows you to separate the content's angles.
By deliberately ignoring some recommendations, you may not reach 75.
Did you know? Disabling recommendations with the little cross on the right allows you to recalculate the Content Score so that Semji ignores these recommendations.By deactivating, you have the means to reach a score above 75, maybe even 100. Be careful though, abusing it is biasing your score :)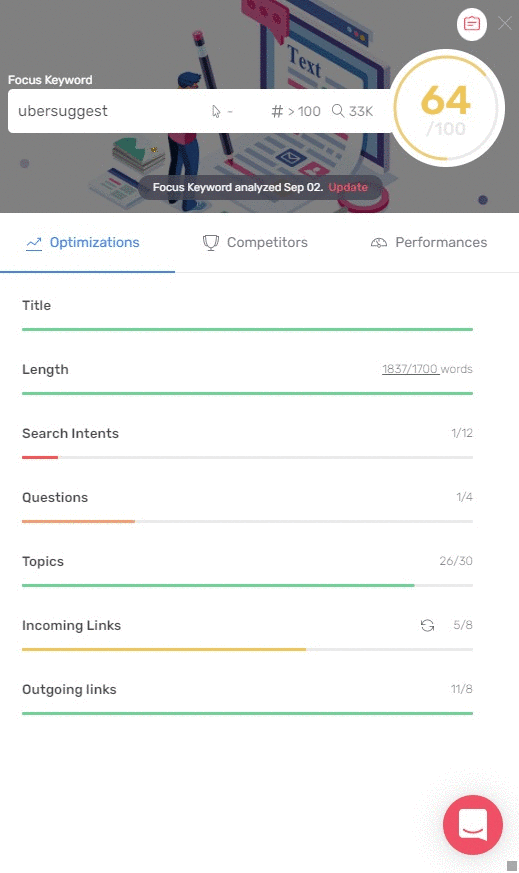 2.Your constraints do not allow you to apply certain recommendations
In some companies, the contents published on the website are highly regulated. If your production process includes a strict brief, exclusionary terms, non-distribution of information and/or multiple reviews and validation, you may not be able to apply all of Semji's recommendations.
Did you know?
You can exclude terms from your Semji workspace: these terms will be automatically removed from the recommendations of Search Intents, Questions, Related Terms... And the Content Score will be calculated based on the authorized recommendations.

3.The content format leaves little room for optimization
Some content types and formats may leave you little room for optimization and recommendations. For example, a journalistic interview has to follow the interviewee's words to the letter. It is then difficult to insert specific topics and keywords, and to make him say what he did not say.

In this case, it is better to insert an introduction and a conclusion that summarize the statement and include these important terms. You can also structure your interview with title levels to group the questions by Search Intent, and get well optimized H2, H3...