Save time writing content, get inspired and improve your ROI!
IMPORTANT: The AI Writing feature is currently in Beta status within Semji. This means that the feature is new, and still in the testing stage. You can contribute to its improvement by sending feedback to our development team. This article is likely to change several times in the coming weeks.

Article updated on 17/05/2022 - discover the latest AI news by clicking here

Tutorial: discover Semji's AI Writing feature in 3 minutes!
Why does Semji include AI?
The aim of Semji Platform is to enable you to quickly produce well-optimised content to maximise your organic performance, while controlling your ROI. At the heart of the processes that allow us to provide relevant SEO content recommendations (Search Intents, Questions, Related Terms, Length, Internal Linking...) is our semantic engine. By combining it with the GPT-3 automatic language generation technology, Semji takes a step forward in achieving this goal!
Facilitating the work of writers
The challenges of the web editor
Semji helps editorial teams to produce content faster and meet their quality objectives.
Produce relevant content: the AI's editorial proposals are directly linked to the Search Intents and Related Terms detected on the Google SERP, thanks to the analysis. You are sure to include in your content everything that is essential to capture and engage your audience!
Counteract the blank page syndrome: no more loss of inspiration or loss of time thanks to writing suggestions! The writer can ask the AI to generate ideas for titles and subtitles, introductions, paragraphs... as many as he wants! He can then complete or reformulate them if he deems it necessary. In just a few minutes, he or she will be able to get to grips with the subject matter, even if it is complex.
The role of the web editor with Semji
At Semji, artificial intelligence is not intended to replace the writer. The latter remains an essential player in the value creation chain to produce differentiating content. He knows his audience, their pain points, and knows how to choose the subjects to address in priority to interest or convert them.
Just as a house initially needs an architect to see the light of day, Semji's AI Writing functionality needs an operator who makes the strategic choices to produce the content:
keywords to ban
search intentions to be integrated
questions to be answered
product and/or brand specific information
specific customer discourse...
As the content is built up, the writer is in charge of the final selection from the artificial intelligence proposals, as well as quality control. He checks that the statements developed by the AI Writing technology are correct. The writer is therefore in charge of the whole project management and remains indispensable in the creation of quality content.
Good to know: The AI initially provided by GPT-3 does not always provide verified information, especially if the Related Terms we ask them to write about are recent. At Semji, we have worked on the alliance between our semantic engine and GPT-3 to get around this problem, and this is what makes us special. Are you interested? Find out how it works
Improving the ROI of your content production
Within a web marketing team, controlling and improving ROI is a constant challenge. With the AI Writing feature, editorial teams can produce more and better content. Organic performance accelerates, as does the quantity of content produced. ROI soars!
Write fast to produce more content: Google has become increasingly demanding. Good content in 2021 no longer meets the same standards as in 2014. For example, today, content that ranks in the top 3 of the SERP is generally long content. The writer must produce between 1000 and 4000 words on certain subjects to hope to outrank the competition. Practices have evolved and writing time has almost doubled: producing optimised content now requires 4 hours and 1 minute, compared to 2 hours and 24 minutes in 2014!
Thanks to AI's writing proposals, the writers save time in the construction of his content plan and paragraphs. They create a first self-written draft that they only have to refine using their style and the key information they have (competitive advantages of their brand/product, etc.).
How does it work?
Currently, you can generate content ideas from the recommendations of the Semji analysis. Several elements of a content can be pre-written by our AI:
The title of the page (the title tag)
An introduction
The content outline (subheading ideas tagged in h2)
Thematic paragraphs
These different elements allow you to quickly build a first draft of content that you just have to complete and rework by adding your editorial style.
Under the bonnet
Unlike most other tools that use AI to write content automatically, we don't just use the (admittedly huge) knowledge bases of GPT-3. Most have only collected data up to 2019, and Related Terms beyond that are often unknown to them. We have therefore developed a unique approach: we provide the AI with fresh and up-to-date data, extracted from the SERP of the Focus Keywords studied, to give it more accurate information and relevant speech patterns on the chosen Related Terms.

Thus, on Semji, if you are looking to produce content on the subject of the coronavirus (non-existent before 2020), the AI will not tell you that it is a computer virus (classic extrapolation on an unknown subject) but rather a global pandemic affecting the human population, for which a vaccine already exists.

This principle is then applied to the different elements that make up a content: for example, to generate title ideas, our AI receives the different titles of the urls positioned on the SERP as inspiration. We apply a filter linked to the relevance of each title to the focus keyword studied, in order to direct the automatic generation of title ideas towards an angle corresponding to Google's expectations.



To generate ideas for headings and subheadings that structure the content outline (otherwise known as Headings, tagged in Hn), Semji sends the Search Intents and Questions identified in the SERP to the AI. This ensures that the subheading ideas generated are relevant because they address the audience's main search intentions for the theme.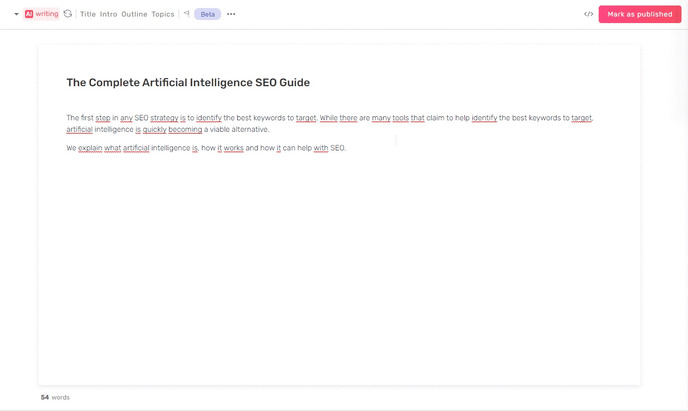 AI always on the cutting edge: our latest news
Good to know: with the update of the AI Writing feature in May 2022, Semji improves the generation of the different elements available.
Title: we bring even more semantic context to our AI so that it can distinguish and generate titles with transactional or informational intentions, suitable for pages with high commercial stakes such as service presentation pages or blog posts...
Example before / after on the keyword "Christmas gift idea":
Title before: "Our Christmas gift ideas for children".
Title after: "Christmas gift ideas 2022: all good gift ideas in one place!"
Intro: Intro generation allows you to adapt to the context within the page. For example, if you generate an intro by positioning your cursor at the very top of the page, you will get an introduction with a general angle, linked to your main Keyword. On the other hand, if you position your cursor under a heading (marked as h2 or h3), you will generate an introduction specific to the paragraph you wish to write and to the subject of the upper heading.
Example before / after on the keyword "Christmas gift idea
Intro before: "You don't know what to give your loved ones for Christmas? We'll help you make the right choice!"
Intro after: "The end of year celebrations are approaching fast and you still don't have any gift idea? Don't panic, we've put together a selection of Christmas gifts for all budgets. Something to please your loved ones for sure!"
Outline: the generation of H2 tagged heading ideas to build your content plan is also improving. Each proposed heading is generated from the complete Search Intent or the complete question (and not only from the keyword in bold in the expression).
Example before / after on the keyword "Christmas gift idea
Outlines before:
Christmas gift idea women
Christmas gift idea for men 2017
Cheap christmas gifts
Ask for your TV catalog
All about christmas gift ideas : which gift to choose ?
Outlines after:
What to ask for at Christmas when you have everything?
What are the best Christmas gifts?
The best Christmas gift ideas for women
20 Christmas gift ideas for men
The best cheap Christmas gifts
Related Terms : finally, the paragraphs automatically generated from the related Terms have been increased in length to avoid cut and unfinished sentences.
How to write content with AI?
In the Semji editor
To write content, go to a Draft (Editor tab).
If you haven't already done so, select your Keyword Focus (our tips for new or existing content) and launch the analysis.
Analyse the recommendations obtained and sort them out: deactivate certain Search Intents, certain Questions and certain Related Terms that you do not wish to address in your content.
Don't hesitate to look at the SERP in the Competitors tab, to get a feel for the competitors' angles and decide whether certain Related Terms are of interest to you. To find out more, watch our video on how to build a content plan.
Good to know: it is important to do this sorting step before the automatic text generation so as not to obtain useless portions of text that do not interest you.
When you have finished your sorting stage, click on the "AI writing" button in the top left-hand corner to access the dedicated menu in the text editor.

Thanks to AI, you can generate multiple ideas and find inspiration, as if you were brainstorming with a colleague!
Click on the "Title" button to get a first auto-generated title idea from the Focus Keyword you have defined for your Draft. The generated title is entered directly into the "Title" field of the Semji editor. Be careful here, it is not the H1 tag.
If this idea does not suit you completely, click again on Title to generate a new one, directly in the dedicated field.

For example: on the Focus Keyword "artificial intelligence seo".

Generating introduction ideas
It's not always easy to summarise an entire piece of content while trying to generate curiosity in your reader. Click on the "Intro" button to generate a paragraph of text that summarises what your content is about, and grabs your audience's attention to make them want to read more.

Our advice: This idea doesn't work for you, or not quite right? Position your cursor one line down, and again, click on "Intro" to generate a new introduction. You can choose which one you want to keep afterwards, by comparing them. You can even merge them to obtain a longer one!

Reminder: before generating sub-heading ideas in your content plan, remember to remove Search Intents and Questions that you do not wish to address. In the example below, the intentions related to "career" or "2019" notions are deliberately excluded because we do not want to generate paragraph heading ideas that include them.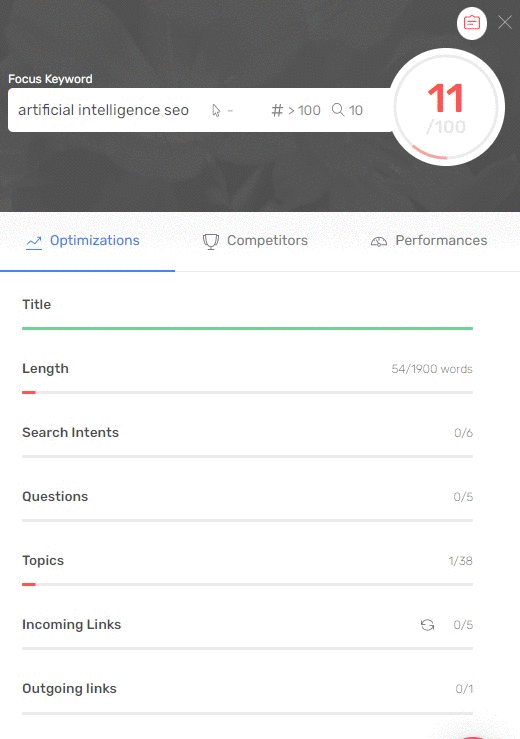 Then click on the "Outline" button to let the AI generate headline and subheading ideas to structure your content plan. With each click, you get 5 subheading ideas tagged in h2. And your Content Score will evolve!
Good to know: In details, the AI prioritises ideas related to Search Intents and Questions not validated in the Draft.
Our advice: You are free to modify their markup (h3, h4...) to nest them under each other and build the best structure for your content.
Some don't suit you? Delete them. The point is to find inspiration and keep the most relevant ideas, not to impose anything on yourself. Don't hesitate to combine certain proposals and make the changes that you think are most useful for the readability of the subject matter.
Generating paragraph ideas (Related Terms)
Place your cursor where you want it in the page, and click on the "Related Terms" button. The AI automatically generates 5 sentence ideas or mini paragraphs. To allow you to see at a glance which Related Terms have been dealt with, each generated sentence is preceded by the Topic in question, in bold.
With the help of Related Terms, you can get information and quickly get to grips with a subject that you are not 100% familiar with. For example, in the example below, I learn that the price of car insurance depends on the driver's profile and certain criteria. As a web writer, I wasn't necessarily aware of this.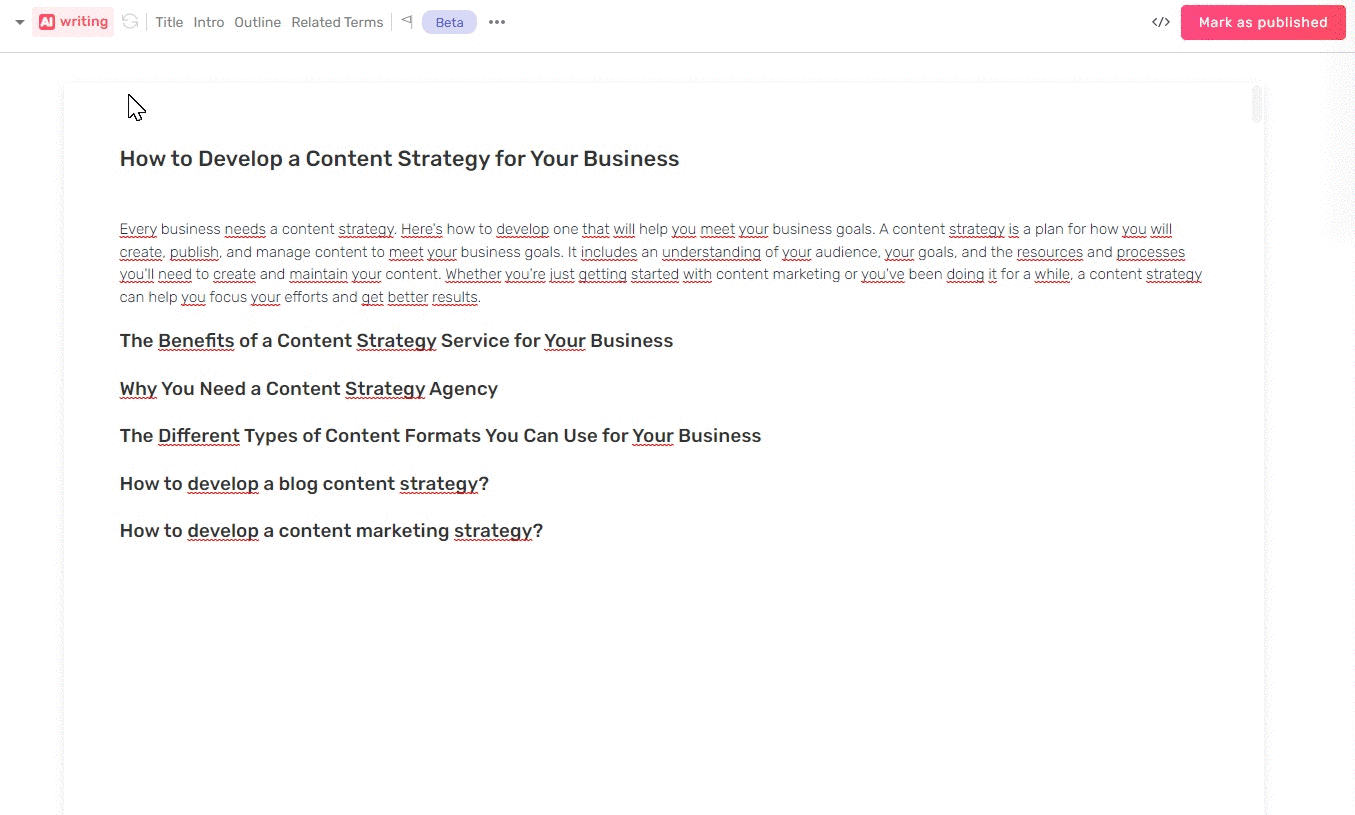 Good to know: In details, the AI prioritises ideas related to the least used related terms in the Draft and which have the highest search volumes.

Our advice: soon, our AI will be able to generate paragraph ideas directly related to the top sub-heading, depending on your cursor position. Until this happens, feel free to generate many Topic ideas, then reposition them under the corresponding headings using copy and paste (shortcuts Ctrl + C and Ctrl + V).
Report an irrelevant generation and send a feedback
Have you noticed that some of the ideas generated are not relevant? Some statements are wrong? As part of the Beta of our AI Writing feature, we are hunting for errors to improve our content generation. Help us by sending us feedback on what you think is wrong, using the flag button: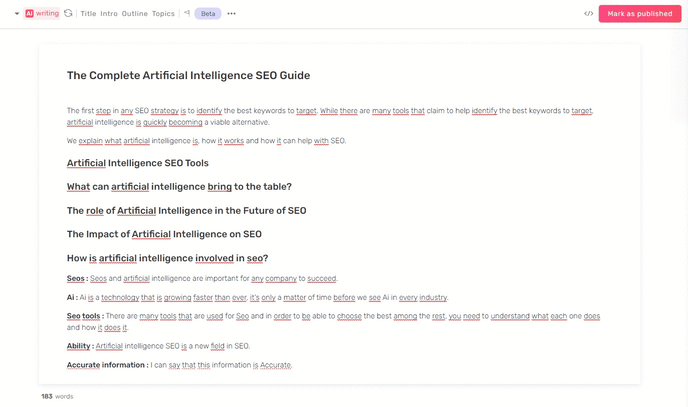 Thanks to your feedback and explanations, you help us to develop new versions of this feature, which will benefit the entire Semji user community. Thank you!
Within the Brief in a few clicks
In the copywriting process, building the brief is often a key step. From an SEO Content perspective, this brief should :
Give an overview of the SEO issues of the content: the main keywords and search intents to be integrated, the questions that Internet users are asking about the subject and that must be answered in the content...
Give the writer objectives: length, number of paragraphs, structure or layout constraints, etc.
Give possible outlines for the content
Provide information and reference resources, including presenting the best competing content to identify how they talk about the topic. The writer can then choose to use the same angle or to move away from it to create original and differentiating content.
In Semji's Brief, within a draft, you can make a multitude of strategic choices about the structure and subject matter of your content: choose the Search Intents and Questions you want to address in relation to your best competitor's paragraph or response. Learn about your topic in seconds, because we have identified for you the excerpts from the competitor's content that best address the chosen intention, question or Topic. Find out what they are saying, and generate similar ideas directly using AI. Compare the resulting generation with the content developed by competitors to judge its relevance: effective fact-checking!
Here, the difference with the editor's AI Writing functionality lies in the fact that you choose to generate ideas for 1 specific Search Intent or 1 Topic of your choice, from the list proposed. You guide the AI.
In the example below, within the Brief, we choose to generate ideas specifically for the Search Intent "artificial intelligence seo tools":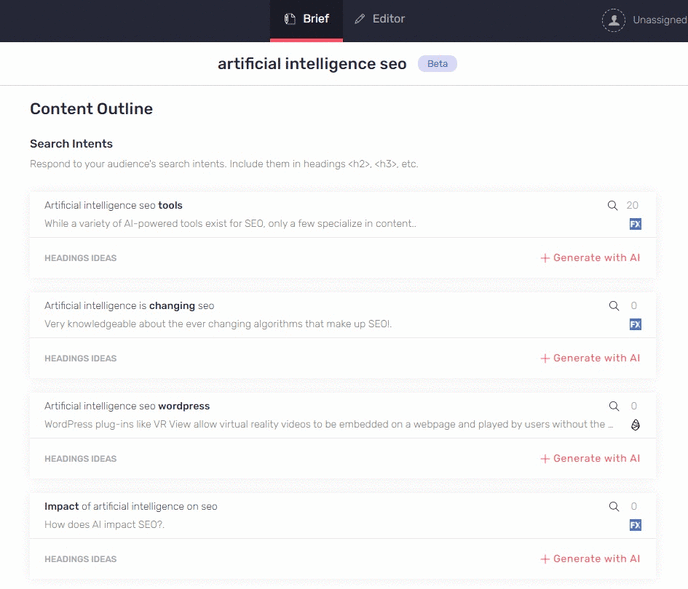 In a sense, in the Brief, you supervise the AI in its content generations. In contrast, in the Editor, you give it more freedom to come up with ideas and inspire you.
FAQ on AI Writing
How long will the Beta of this feature last?
We have not yet set a date for the release of future versions of AI Writing. The more feedback we get from our users, the more we will be able to improve our AI content generation. Future versions are expected in the coming weeks.
Are we sure that the data generated is 100% relevant?
By definition, using AI, it is not possible to reach this threshold of certainty. Our objective is to obtain relevant proposals in 80% of cases. To achieve this, we need your help: as soon as you detect an erroneous proposal, flag it with the flag and send us your feedback! Thanks to the feedback we have already collected, new versions of our AI are being developed.
As we explained, when the AI is faced with recent or market-specific related terms (such as the French market), the relevance rate of the recommendations can decrease. This is because this AI has been trained on data prior to 2020 and mainly on the US market. When the AI can't find data on a topic, it gets creative and makes up claims... which may turn out to be false. At Semji, we feed the AI fresh data from recent SERPs. This approach is unique and innovative. But we are not immune to exceptions. Therefore, we recommend not to trust self-written texts. It is better to know your subject and to surround yourself with a knowledgeable editor who will be able to carry out a qualitative proofreading.
Is the use of AI unlimited?
As long as the AI Writing feature is in Beta in the platform, text generation is only limited to 9 successive generations per minute. If you encounter an error message explaining this limit, wait a few seconds before you can generate new ideas.

Is there a risk that AI Writing will generate duplicate content?
This risk is extremely low because AI Writing uses huge databases as sources of inspiration and information. In addition, our teams are in the process of integrating an automatic duplicate content check to cover the smallest cases that could arise in the future.
If my competitor is also using Semji to optimise content on queries identical to mine, is there a risk that our content written with AI Writing is too similar?
Keep in mind that good content has differentiating elements. By definition, you should aim to produce content that is not only comprehensive - addressing the most relevant search intentions - but also original. That's why we recommend hiring a copywriter to give form and style to your first draft of content, written with the help of artificial intelligence. Aim for better content than the top 3 competitors in the SERP and rely on the skills of your copywriters: let them integrate :
your brand message
your product policy
the expression of your customer benefits and your added value
your editorial tone...
These elements can make the difference on the basis of information that is considered identical (for example, in the context of an informative article that explains that car insurance is compulsory).
What does Google think: is there a risk to my SEO performance if my content is written by AI?
A few years ago, content generation with AI was easily detectable by the human eye. Google was therefore also able to identify grammatically incorrect sentence structures or false assertions. With GPT-3 technology being considerably more advanced, it is no longer possible to differentiate between content produced by a human writer and content produced by AI. However, even if Google were able to identify it, AI-produced content would not necessarily start out behind the curve. As John Mueller, webmaster trends analyst at Google, explained, what matters to the engine is the quality and relevance of the content. Therefore, the process by which it was created is not relevant. Written with AI or not, what allows a content to be positioned is the subject and the structure it develops, the questions it answers...